At Barco's Painting, you can discover world-class cabinet painting and other services. Whether you want a dramatic change or merely need to update your kitchen, we can help. Our cabinet painting services can work with a variety of materials, paints and primers.
Do you brush and roll the cabinets?
Yes, but we prefer spray. Spraying cabinets gives the best finish and overall appearance and that is something we really pride ourselves on!
Does Barco's Painting offer a warranty for cabinets?
Yes we do! We offer a 2 year warranty for all cabinet painting projects.
Can Barco's Painting add new handles or hinges to our cabinets?
Yes we do! The client provides the handles or knobs of their choice and we will install them for you at the end of the project. Barco's also offers hinge installation as well. Each cabinet system is different so asking for a free estimate will help us determine all options available to you and estimated costs for each item.
Do you need a deposit?
Yes, our deposit amount is 10% of the project cost.
Traditional cabinet refacing can cost as much as $10,000. Worse still, it can take up to five days to complete. It will take the company even longer if they have to order the necessary materials. If you are in the middle of a kitchen renovation project, you need a faster, more affordable option.
With painting services, you can save money and get your cabinets updated in just a few hours. On average, repainting your cabinets costs just 33 percent as much as the price of refacing your cabinets. If you wanted to replace your cabinets completely, it would cost five times more than the cost of painting them.
It takes just three to five days to dramatically change your cabinets with a completely new color. In most cases, you can still use the same cabinet doors and hardware. As a result, you can spend less money and get faster results by repainting your cabinets instead of replacing them.
How Our Company Can Help You
Over the years, our company has developed a reputation as one of the area's best kitchen cabinet painters. If you are looking for painters in Castle Rock CO, we have the vetted, experienced team members you need. Our professional tradesmen are available for large and small projects.
You have spent years creating your dream house. If you let the wrong people work on your home, the results could be disastrous. Our team is fully insured, so all of your belongings are protected. You can be confident in the quality of our work because we give all of our employees a thorough background check before they are allowed to go to a painting site.
Our team has more than 15 years of experience in commercial and residential painting. Over that time, we have created a proven track record of providing top-notch service. If you want to see what our typical customer's experience is like, you can read through our many positive reviews.
We know that you will love our results. Because of that, we are willing to offer all of our clients a satisfaction guarantee. We deliver the best customer service in the industry, and our satisfaction guarantee is a part of our approach to customer service.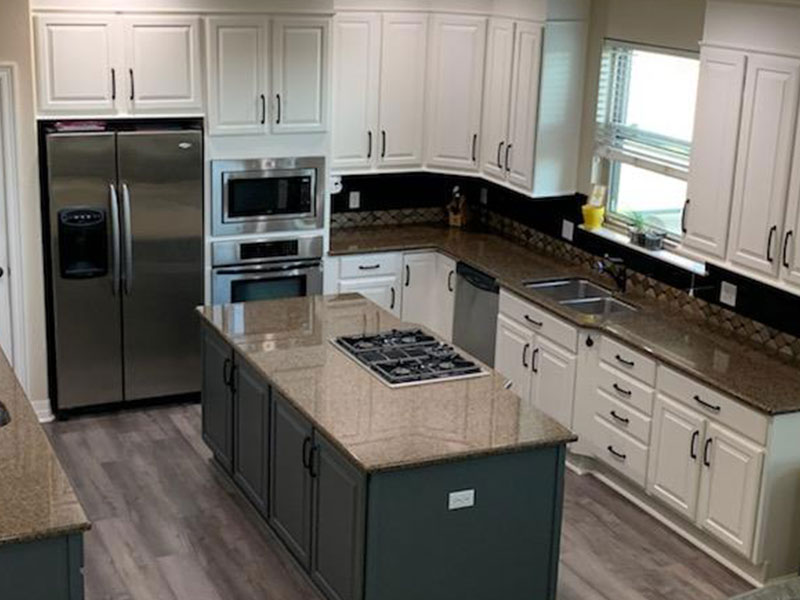 When you need a project finished right away, we can help. We are flexible about all of our cabinet painting services. In addition, we are committed to getting each project done on time and on budget.
You love your home, so you do not want it to become a construction site for weeks at a time. Our company works to complete each project quickly, so you can get back to your normal life. As soon as you hire our business, we will immediately get to work on your cabinet project.
Our painters are known for providing high-quality workmanship. In the rare case that there is a problem, we have you covered. We give all of our clients a two-year warranty, so you can get any issues fixed for free during that time.
The right cabinet painting services have to be available at an affordable price. Before you commit to anything, we will give you a free estimate. There is no obligation to get your cabinets repainted afterward. Our goal is to give our customers high-quality workmanship at low prices, and a free estimate helps us fulfill that goal.
Each one of our vetted painters has undergone a complete background check. We only hire the most experienced staff members possible. Each team member has an in-depth understanding of the latest equipment, tools and techniques. They know the characteristics of each paint type, so they can help you determine the best paint for your project.
How the Painting Process Works
Getting your cabinets painted is a fast, simple process. It takes just a few simple steps for us to complete everything. While each project may have different requirements, the following steps are a part of our standard process.
We begin by removing the cabinet doors and hardware.
Next, we use tape, drop cloths and other tools to protect your floors, counters and other surfaces.
We thoroughly clean wooden surfaces and sand away any imperfections.
Our team members will repair any scratches, dents or cracks until the surface is completely smooth.
Afterward, we apply two coats of primer. Then, we add two topcoats to create a factory finish.
Once everything has had a chance to dry, we reinstall the hardware. Next, we hang the cabinet doors back on the cabinets.
Finally, our team thoroughly inspects your cabinets to make sure everything is perfect.
We are committed to providing exceptional services to all of our clients. Because of this, we only use the best quality of equipment and paint. When we are finished, your cabinets will be resistant to grease splatters, impacts and scratches.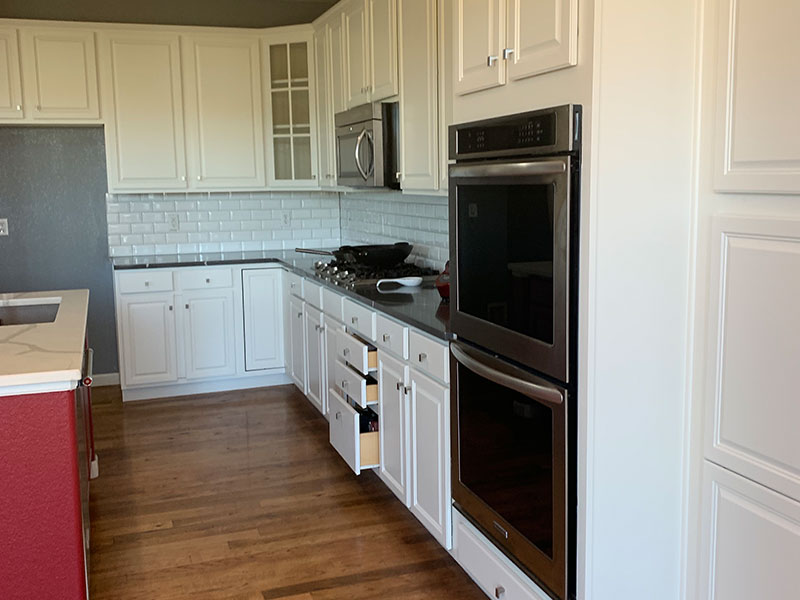 Why Should You Get Your Cabinets Redone?
Cabinet painting can boost the value of your home. It also allows you to update your kitchen or bathroom. New paint is like a face lift for your kitchen. It takes just a few days to complete, but it instantly improves the beauty of your home. In just a few hours, you can make your cabinets look years younger than before.
More importantly, painting your cabinets can help them last longer. In a typical kitchen or bathroom, moisture is constantly present. Over time, this moisture can cause wooden cabinets to rot. Paint protects your cabinets by adding a protective layer that stops moisture from affecting the wood. The paint can also keep your cabinets safe from insects, acids and heat. Plus, repainting your cabinets is significantly cheaper than replacing them completely.
Discover Colorado's Top Painters
Barco's Painting is known for having some of Colorado's top kitchen cabinet painters. We strive for the best quality of workmanship and customer service with every project. In addition to a two-year warranty, we offer a satisfaction guarantee. If you want to learn more about our exceptional services, call us today.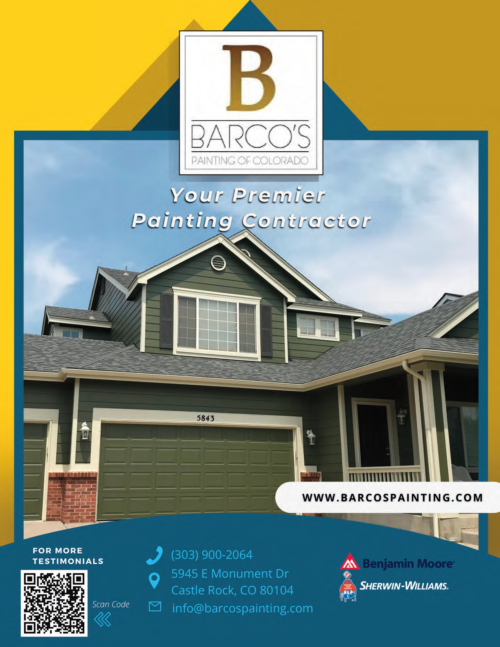 Want to talk?
Give Us a Call or Complete Our Online Form:
We answer our phones 24/7. We'd love to hear from you!