If you're like most Castle Rock residents, you spend a fair amount of time and energy on property maintenance and home improvement. Keeping interior paint jobs up to snuff is a big part of the equation no matter how old your real estate may be. Fortunately, Barco's can handle any interior paint challenge under the sun.
What interior painting do you provide?
We paint interior walls, ceilings, trim, doors and even paint cabinets! Interior painting is done by brush and roll however cabinet painting is done by spray.
Do you move furniture?
Yes, we will move furniture for you including removing/reinstalling socket and wall plates. We ask that all pictures, artwork, electronics, appliances, window coverings, plants and fragile or otherwise irreplaceable items be moved prior to us starting.
Do you offer wallpaper removal?
Yes, on a job by job basis. Wallpaper removal can be unpredictable so it's best to have us take a look at your project to consult you on the best way to proceed!
Do you need a deposit?
Yes, our deposit amount is 10% of the project cost.
Serving Castle Rock Since 2015
The creation of Jeremy Barton, Barco's Painting is the culmination of over two decades worth of experience in the painting realm. Barco's is without a doubt the premier painting outfit in Douglas County and the surrounding area. Rest assured, the team at Barco's always delivers the best paint job regardless of the scenario.
What We Can Do for Your Interiors
As a jack-of-all-trades painting outfit, Barco's can tackle any interior paint project imaginable. Here are just a few of our specialties.
Bedrooms and Living Rooms
Lousy paint jobs negatively impact quality of life for a number of reasons. The team at Barco's can recommend the appropriate color and sheen of paint for any room based on your unique preferences. Thanks to the skill and attentiveness of our technicians, your paint job will stand the test of time.
Bathrooms and kitchens are notoriously difficult to paint correctly due to frequent high temperatures and humidity levels. Many home and business owners who attempt to tackle these tricky projects on their own are ultimately dissatisfied with the end results. Barco's excels at protecting challenging bathrooms and kitchens that confound even professional painters.
Thanks to the high amounts of foot traffic they receive every day, staircases and handrails require frequent repainting. Selecting the right paint for staircases is critical if you want to make paint jobs go the distance. At Barco's, we burn the extra calories necessary to paint staircases and banisters the right way.
Drywall Patching and Painting
You can't expect a coat of paint to look like a million bucks if the underling drywall isn't smooth. Carefully prepping drywall before the application of primer and paint is the key to a long-lasting paint job. We can expertly patch any gouge to ensure that drywall imperfections are practically invisible.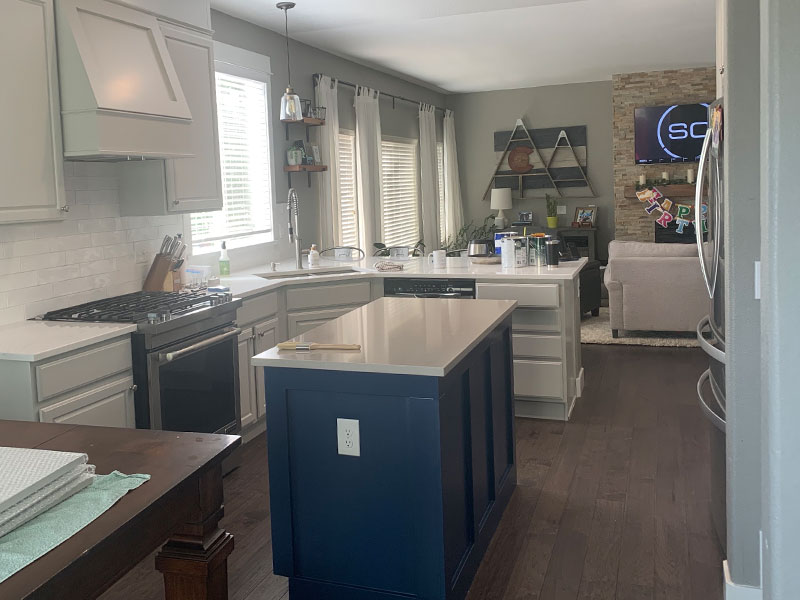 Doors and their associated trim naturally suffer from plenty of abuse under the best of circumstances. Using a superior high-gloss paint on doors and trim will protect delicate wood from dings and scratches. We'll make sure that your doors and trim don't succumb to physical trauma and warping due to moisture-related expansion.
Refurbishing kitchen and general storage cabinets is a delicate process that demands supreme focus and superior technique. Settling on the perfect paint for any given wood is only the tip of the iceberg. Barco's interior painters are well versed in the subtle art of giving intricate cabinets the love and attention they need.
Anyone that's ever tried to separate wallpaper from drywall knows how frustrating the procedure can be. Our battle-hardened professionals can make short work of even the most stubborn wallpaper without breaking the bank. If you want your old wallpaper to be a distant memory, we're the crew to call in a pinch.
Detail painting is one of those specialties that separates the amateurs from the professionals. Painting elaborate crown molding is one challenge that quite a few painting contractors simply don't want to take on. At Barco's, we never flee from a challenge. We have the tools and expertise required to make even the most delicate woodwork shine like new.
Far too many property owners underestimate the importance of painting bare cement basement floors nowadays. The reality is that doing so can prevent a lot of moisture damage in the form of wood rot and boost home values. We can clean and paint any basement floor no matter how old and damaged it might be.
Property Management Turns
The longer a rental property stays off the market, the greater the financial loss for owners. As such, quickly refurbishing rental units by painting damaged drywall, flooring and trim is a major priority for property managers. The Barco's team can rapidly restore interior paint jobs on surfaces of all kinds to facilitate speedy turn-around times on rentals.
We've always felt that the best way to forge positive relationships with customers is by demonstrating value right off the bat. That's why we offer 100% free estimates on paint jobs for any property in our expansive service area. Simply fill out our online estimate form and we'll contact you within 24 hours.
Without question, Barco's interior house painters are some of the best artisans you'll find anywhere in Colorado. Every painter on the payroll is carefully taught to ensure that they meet our exacting standards. The results that they deliver day in and day out to our cherished clients speak for themselves.
When you hire Barco's to realize your interior paint visions, you won't have to worry about sub-par paint products marring your property. We know better than anyone that cutting corners in the paint department is ultimately a foolish decision. That's why we always go the extra mile to source the finest materials possible.
Outstanding Customer Service
If you live in Castle Rock and Google "painters near me" on a whim, "Barco" pops immediately. That's because we bend over backwards to make sure that our clients can't say a bad word about us when the job is done. We're in constant contact with our customers throughout every step of the interior paint process.
In a business as competitive as painting, you're only as good as your word. That's why every interior house painting job we complete comes with a 2-year warranty no matter what. We're fully insured, bonded and confident enough to guarantee that you'll be happy with any paint job that you ask of us.
Call Barco's Today and Save!
At Barco's Painting of Castle Rock CO, we take plenty of pride in our interior house painting prowess. The reality is that you won't find better inside house painters in Douglas County if you search for a hundred years. Contact us immediately for a free estimate. We promise you won't regret it.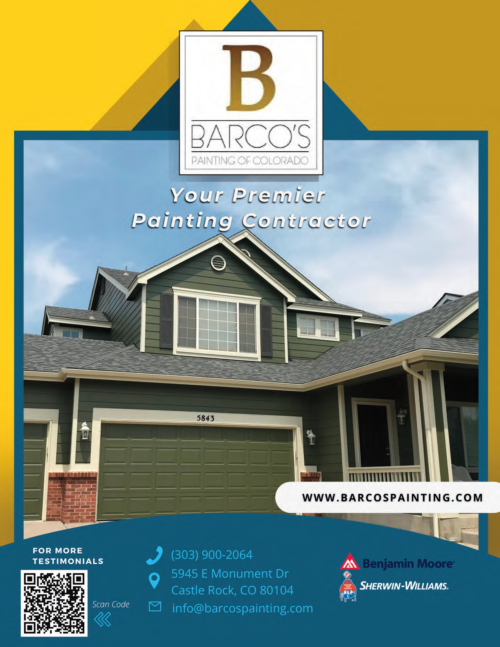 Want to talk?
Give Us a Call or Complete Our Online Form:
We answer our phones 24/7. We'd love to hear from you!