Exterior stucco painting helps protect homes from the snow, rain and wind that so often occur in Castle Rock CO. Interior stucco painting also protects as it seals any nooks and crannies into the wall. Both are fire-resistant. Wherever you instruct your stucco contractor to apply this type of paint, you can rest assured that it will beautify those areas. That is thanks to its attractive classic, seamless look. Our professional staff at Barco's Painting knows how to complete a stucco job that results in a look that is safe, durable and beautiful and knows how to do so in a timely manner.
This plaster-like material has been used since ancient times. Greeks and Romans used it then to create beautiful frescoes. In the Renaissance Age, it started being utilized in greater numbers on homes and similar structures. It achieved widespread acceptance in the United States in the 1800s as more and more people wanted their structures to emulate ones that they had discovered or knew about in Europe. This acceptance strengthened throughout the 1900s and through the start of the 21st century. Many homes today that use this style of painting have Old World and Tuscan-style looks to them.
Low Maintenance and Long Lasting
Another benefit of stucco painting is that it is low maintenance as compared to other types of paint jobs. With that said, you will want to inspect and clean it once a year, seeing if it has any cracks or pocking, which, for outdoor uses, may have resulted from the hailstorms that are common in this area. It is also long lasting with most estimating its lifespan in decades. Generally, it lasts about twice as long as most other types of paint jobs. Of course, the more professionally it is installed, the longer it will tend to last.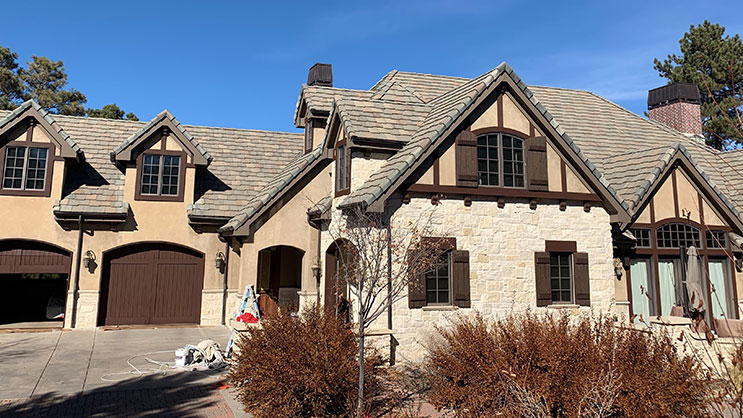 Protects Against Water and Fire Damage
One of the most significant benefits of utilizing stucco painting is its ability to protect against water damage. This is because it resists moisture. However, do note that it is not waterproof and does still suffer from water damage from time to time. When you inspect it, take special notice of any small bumps on the surface, and get those repaired. As far as fire resistance goes, stucco often receives a one-hour fire rating, meaning that, for example, outdoor fire will take an hour to get past the stucco and start spreading inside.
Importance of Professional Installment
In order to fully experience the beauty and durability that this type of painting is known for, it's important to use a specially trained stucco painting contractor such as us. This is not an easy job to do yourself, and most homeowners quickly realize that they are unable to do it efficiently. However, we will take the worry out of this project and also free up the time that you would have spent on it, and we will ensure that it is done right. We will also take pride in your home. We want the finished product to be of the highest quality just as much as you do.
Although a quality job is of the utmost importance to both you and us, we also know that timeliness is an important factor as well. We know that you do not want your home to essentially serve as a construction-like site for weeks on end. Fortunately, with us, you do not have to worry about that. We will ensure that your project is done in a much quicker time frame than that so that you can quickly return to your normal routine, now with a fresh paint job, without having had experienced too much disruption to it.
Nobody wants to pay a king's ransom for a painting job, but, at the same time, nobody wants to receive cheaply produced work. Barco's Painting provides the best of both worlds. We are a local company that is focused on offering luxurious high-quality workmanship at affordable prices. We take pride in wanting to ensure that your bank balance is not adversely affected by this and that you are highly pleased with our finished product. In fact, we guarantee your satisfaction. We are also fully insured, which provides both you and us with peace of mind.
We will bring more than 15 years of experience in commercial and residential painting and a proven track record of outstanding customer service into this project. We know how to turn your ideas and dreams for how you want your home to look into reality. We are also well-versed in both exterior and interior stucco projects and the nuances that doing both types of work entail. We have familiarity with the latest techniques and equipment which we back up with our our two-year warranty.
If you are interested in having our friendly team of professional tradesman who are fully knowledgeable about characteristics and properties of stucco make your visions a reality, contact us. We will discuss with you what you want the finished job to look like and will provide you with a free estimate prior to any final agreement that we make. We want you to know what to expect financially and time commitment-wise.
Want to talk?
Give Us a Call or Complete Our Online Form:
We answer our phones 24/7. We'd love to hear from you!