Transform Your Castle Rock Home With New Paint
Nothing transforms your home like a coat of fresh paint. It's the fastest, most affordable way to create an eye-catching, dramatic look. Is your paint looking dull or chipped? Is it boring? Are you ready for a fun, fashionable new look? If you want to refresh and renew, call Barco's Painting today.
What interior painting do you provide?
We paint interior walls, ceilings, trim, doors and even paint cabinets! Interior painting is done by brush and roll however cabinet painting is done by spray.
Do you move furniture?
Yes, we will move furniture for you including removing/reinstalling socket and wall plates. We ask that all pictures, artwork, electronics, appliances, window coverings, plants and fragile or otherwise irreplaceable items be moved prior to us starting.
Do you offer wallpaper removal?
Yes, on a job by job basis. Wallpaper removal can be unpredictable so it's best to have us take a look at your project to consult you on the best way to proceed!
Do you need a deposit?
Yes, our deposit amount is 10% of the project cost.
Call Barco's for Residential Painting Services in Castle Rock CO
Is your Castle Rock home looking a little the worse for wear? Homes in Colorado can take a beating from the elements. With our combination of constant sunshine, hail, snowstorms and mountain breezes, an exterior paint job has to be tough to look good year after year.
At Barco's, we are uniquely qualified to help you select paint. Our house painters have extensive experience in the specialty coating and paints industry. We work with the finest brands. We can help you select a paint that's durable, beautiful, and built to endure Colorado's weather.
Refresh and Rejuvenate Your Home
There are many reasons to get a new paint job from professional painters near me.
• Curb appeal: Fresh paint makes your house stand out and look gorgeous.
• Resale value: If you're trying to sell your house, you want it to look its best. Interior and exterior paint can make any home look like new.
• Protection: Paint can seal gaps and cracks in your home. It's also the best way to protect your home against Colorado's termite problems.
• Style upgrade: Are you tired of your current color scheme? New colors on your exterior walls and trim let you show off your personal style. If you want to revamp the interior, start with paint.
Choose Barco's for the Best Residential Painting Services in Castle Rock CO
There are many good reasons to choose new interior or exterior paint. There are also many good reasons to choose Barco's professional painters if you live in the Castle Rock area.
• We're a family-owned residential painting business that has been serving the Douglas County community for over 15 years.
• We specialize in interior design, custom painting and impeccable craftsmanship.
• Our experienced workers are carefully selected.
• We back up our promises with a solid guarantee.
We provide a level of customer care that we like to call affordable luxury. Everyone deserves a beautiful, stylish home. With Barco's help, you can transform your house inside and out.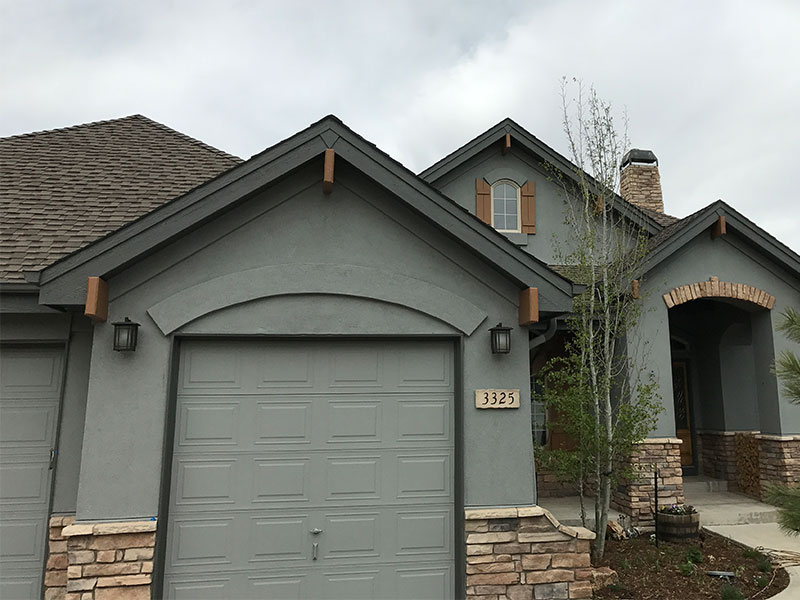 Do You Plan to Do Your Own Painting?
Some people think they can save time and money by doing their own interior and exterior painting. If you think a major painting job like this is easy, rethink your plans. Painting is a job that requires time, patience and skill.
Professional painters have the knowledge and experience to work swiftly and efficiently. Our workers never cut corners, but they know how to work efficiently. They paint every day. They have years of experience. That experience creates tips, tricks and know-how you can only learn by doing.
Most DIY jobs end up taking a long time because you simply don't have that same know-how. Think about everything from selecting paint, buying it, prepping the walls, laying down tarps and moving furniture. All that takes time If you're not a professional, you can expect to spend three times as long on the job as a professional would take.
Do You Have the Patience?
Painting is a painstaking job that requires great precision. Skilled painters are good at it because they're able to work steadily without losing patience. They don't let spills, setbacks or the tedium of precise work frustrate them.
Many people are unprepared for the frustrations that come with any large painting job. In most cases, they end up quitting before they finish the job because they're overwhelmed, irritated, fed up and ready to tear the house down rather than spend another minute painting.
Do you really need that level of stress in your life? Why not let professionals who love doing this work do it for you?
An expert, seamless residential paint job that will last for years requires a high level of skill. You can't do a slapdash job with painting. As professional residential painters, we can always spot an amateur paint job. The trim and corners aren't precise, the surface is rough, the brushwork shows and the paint chips right away.
Most people who do a DIY paint job have good intentions, but they lack the skill and know-how to do a good job. After all their hard work and headaches, they end up with a sloppy job that we end up redoing for them.
Is that really how you want to spend your free time? Our skilled, efficient painters will leave your home bright and gorgeous-looking.
Outstanding Customer Service for a Variety of Clients
Our experience as commercial painting contractors is extensive. We've worked with clients in a range of industries. Our past projects have involved malls, hospitals, condominium associations, office parks, and many other types of businesses.
We make it our purpose to fulfill your company's needs, and we pay close attention to your preferences and specifications. When you contact us, you can depend on quick, honest, and friendly replies and detailed explanations about the steps we're taking to complete a project. Your satisfaction is guaranteed.
Will Painting It Yourself Save You Money?
It might, but can you live with the results? Is the small amount of money you're saving really worth it?
We know everyone's trying to save money. Skilled work is not cheap. At Barco's Painting, we know how to save money by saving time. We also know which paints to use and how to apply them, so they'll last for years. We use top-quality paint and equipment to create a stunning job that will stay beautiful for years.
Get Professional Results from Professional Painters
When you hire experienced residential house painters, you get a beautiful paint job you'll be proud to show off. Barco's Painting of Colorado will deliver the results you want.
Our exterior painting services can transform your brickwork, siding, roof trim, windows, shutters, porches, decks, fences and outdoor stairs. Our interior painting will renew every room in your house. We can paint walls, cabinets, trim, bathrooms and kitchens.
If you live in Castle Rock, Parker, Highlands Ranch, Littleton or Lone Tree, we can turn your home into a showplace.
We're the Local Experts in Interior and Exterior Residential Painting
As a local company, we are proud of the reputation we've built and our commitment to our community. We invite you to read our reviews and our top BBB rating. We are more than just painters, and we offer more than any other painting contractor.
Clean, Top-Quality Workmanship
Our residential house painters take pride in their professionalism. They deliver a top-notch job backed by our guarantee. They won't tear up your home. They clean up after themselves when they finish.
During the COVID-19 pandemic, we have taken extra steps to ensure your safety and ours. We use masks, industrial-strength sanitizers and social distancing. We will work around your work and family schedules.
Unmatched Customer Service
Our customer service guarantee goes well beyond what most residential painting companies offer. It includes:
• Full guarantee against chipping, blistering, peeling, chalking, wax bleed, "alligatoring" and excessive fading.
• Two-year interior warranty.
• Four exterior warranties ranging from four to 12 years.
• No-obligation free estimates.
Bring Your Home Alive With a New Paint Job
A new paint job can do wonders for your home. If you live in Douglas County, discover why Barco's Painting of Colorado is the premier choice of discerning homeowners. Call us for a free estimate today.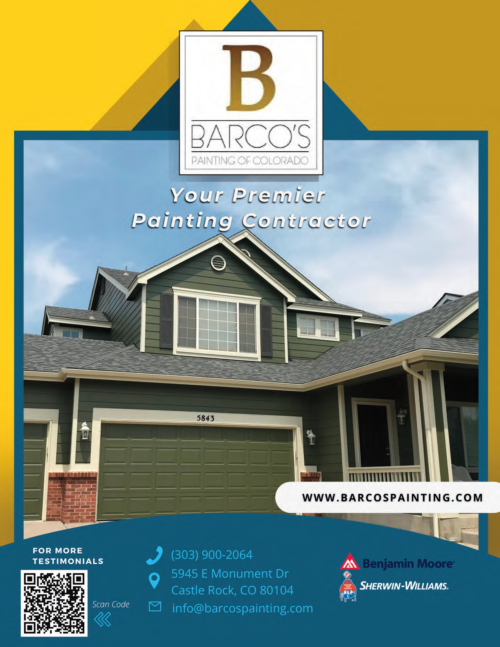 Want to talk?
Give Us a Call or Complete Our Online Form:
We answer our phones 24/7. We'd love to hear from you!