Painting your Colorado house is an exciting journey, but it often comes with a myriad of questions. From the practicality of paint types and seasons, to the nitty-gritty details of drying times and crew tidiness, we've got you covered. In this blog, we'll address your burning questions and provide the insights you need for a successful and satisfying painting project. Let's dive in!
How long will it take to paint my house?
Every job and every scope size is different. The painting process for exteriors typically takes three to five days, while interiors can take as little as two to ten days. Because your project is unique, once we have a proposal ready for you, we will communicate with you about what to expect in terms of timing and how long we will be at your home.
What kind of paint do you use?
We use paints from both Sherwin Williams and Benjamin Moore. With exterior paint, since we offer four different grades of warranty, there are different products associated with those warranties. And with interior paints, we tend to use the cashmere from Sherwin Williams or the Regal from Benjamin Moore for walls and ceilings.
What is the best season to paint?
The best time to paint the exterior of a home in Colorado is between April and October. And we can do interior painting all year round.
Is your crew tidy and neat?
Yes, the guys will tidy up their mess at the end of the day and move all of the paints and their equipment to one area of the house if we're painting inside. If we're painting outside, they will usually move everything to the left or right side of the house to keep it out of the way of the backyard and out of sight of the front yard.
When should flat and lower sheen paints be used?
I get this question quite a bit. Usually, for interiors, flat paint is just used for ceilings. Some people prefer a lower sheen, such as a matte, for their walls, which is possible. The majority of the time, interior paints are either matte, low sheen, or low luster. We don't recommend flat for exteriors, at least not in Colorado. A satin finish is the preferred sheen for exterior painting because it weathers better and handles the elements better.
When should higher sheen paints be used?
We typically see something like semi-gloss or gloss used on trim or doors. But that's really about it. Some clients prefer semi-gloss finishes in bathrooms and kitchens, which we can provide. But, with today's technology and paints, a satin finish is perfectly acceptable in most situations. In a bathroom with poor ventilation, I would recommend semi-gloss paint.
How long will it take for the paint to dry?
The temperature outside or inside the home, as well as humidity, influence how long paint takes to dry, but in general, wall paints only take a couple hours to dry before you can put your pictures back up on the wall. Exterior paint, on the other hand, dries in about an hour to two hours.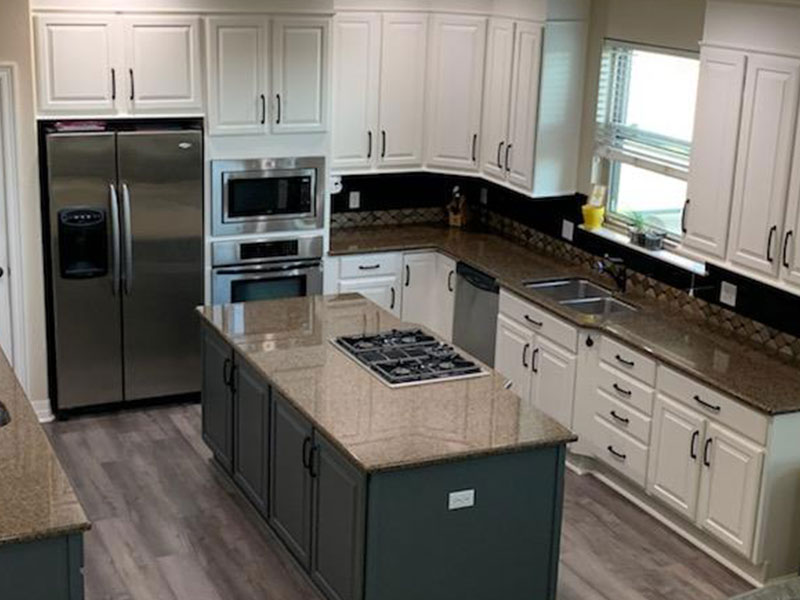 Get Started Today
Ready to get started with your project? Contact us today for a Free Estimate!