MAY 2022 BARCOS PAINTING OF COLORADO NEWSLETTER
Summer is right around the corner, which means it's time to start thinking about getting your deck ready for all those outdoor BBQs and gatherings.
Did you know that the word barbecue comes from the language of the Taino, a group of Caribbean Indians? Barbacoa is their word for cooking on a raised wooden grate. Planet Barbecue says that in 1526, a Spanish explorer wrote about his trip to the West Indies and used the word for the first time in writing.
Here at Barco's, we can help get your deck ready for the summer (and all of the parties that come with it) with our power washing, painting and staining services.
Over the winter months, your deck can take a beating from the elements. Power washing will remove all the dirt, grime and mildew that has built up over time, and painting or staining will help protect your deck from future damage.
If you're not sure what colors or finishes to choose, our experts can help you select the perfect options to complement your home and style.
And what goes better with a freshly cleaned and prepped deck than a delicious BBQ? We've included our favorite recipe below. So, fire up the grill and enjoy!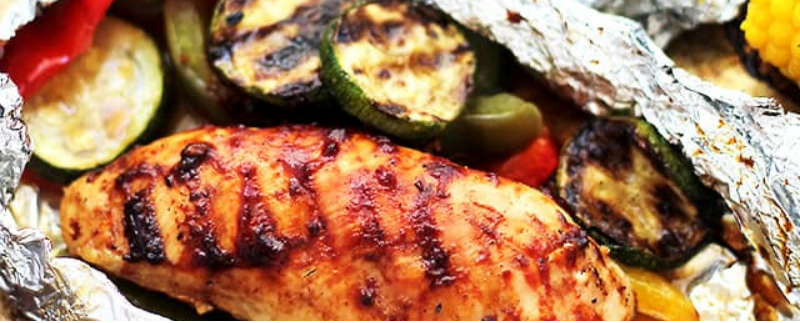 Barco's Grilled BBQ Chicken Packs
Ingredients:
8 aluminum foil sheets large enough to wrap around one chicken breast
4 (4-ounces each) boneless, skinless chicken breasts
1/2- cup barbecue sauce (use your favorite)
1 zucchini , sliced into thin rounds
1 red , green or yellow bell pepper, cut into thin strips
8 asparagus spears
salt and fresh ground pepper , to taste
extra virgin olive oil
Instructions:
Preheat the grill to medium-high heat.

For each foil pack, prepare two sheets of aluminum foil; place the sheets one on top of the other for durability.

Place one chicken breast on each stacked pair of foil sheets; season with salt and fresh ground pepper.

Brush each chicken breast with 1 to 2 tablespoons barbecue sauce.

Divide equally and arrange vegetables around each chicken breast; season with salt and pepper.

Drizzle chicken and vegetables with little olive oil.

Fold the sides of the foil over the chicken, covering completely; seal the packets closed.

Transfer foil packets to the preheated grill rack and cook for 20 to 25 minutes, or until done, turning once.

Chicken is done when the thermometer reads 165 F.

Allow the chicken to rest for a few minutes.
Serve and Enjoy
Click here to download this recipe card