NOVEMBER 2022 BARCOS PAINTING OF COLORADO NEWSLETTER
Happy Thanksgiving from Barco's Painting of Colorado!
In celebration of Thanksgiving, we've compiled some fun facts about the holiday for you to share at Thanksgiving dinner to impress your family and friends!
Thanksgiving was first celebrated in 1621 by the Pilgrims. They gave thanks for a successful harvest, and the tradition has continued ever since.

The original Thanksgiving did not include turkey. Venison, duck, goose, oysters, lobster, eel, and fish were almost certainly offered, along with pumpkins and cranberries (but no pumpkin pie or cranberry sauce!).

Americans eat 704 million pounds of turkey every Thanksgiving.

The tradition of football on Thanksgiving began in 1876 with a game between Yale and Princeton. The first NFL games were played on Thanksgiving in 1920.

The average number of calories consumed on Thanksgiving is 4,500.

This year, more than 54 million Americans are expected to travel during the Thanksgiving holiday. This is a 4.8% increase over last year.
There are many different ways to celebrate Thanksgiving. Some people go out for dinner at a restaurant, while others cook their own feast at home. Some people watch football games on TV all day long, while others visit relatives or go for walks in the park.
No matter how you choose to celebrate, we hope you have a wonderful Thanksgiving!
Are you looking for a simple recipe to add to your Thanksgiving feast? Check out this recipe for a 3-ingredient Sweet Potato Casserole with maple pecans. It's easy to make and your guests will love it!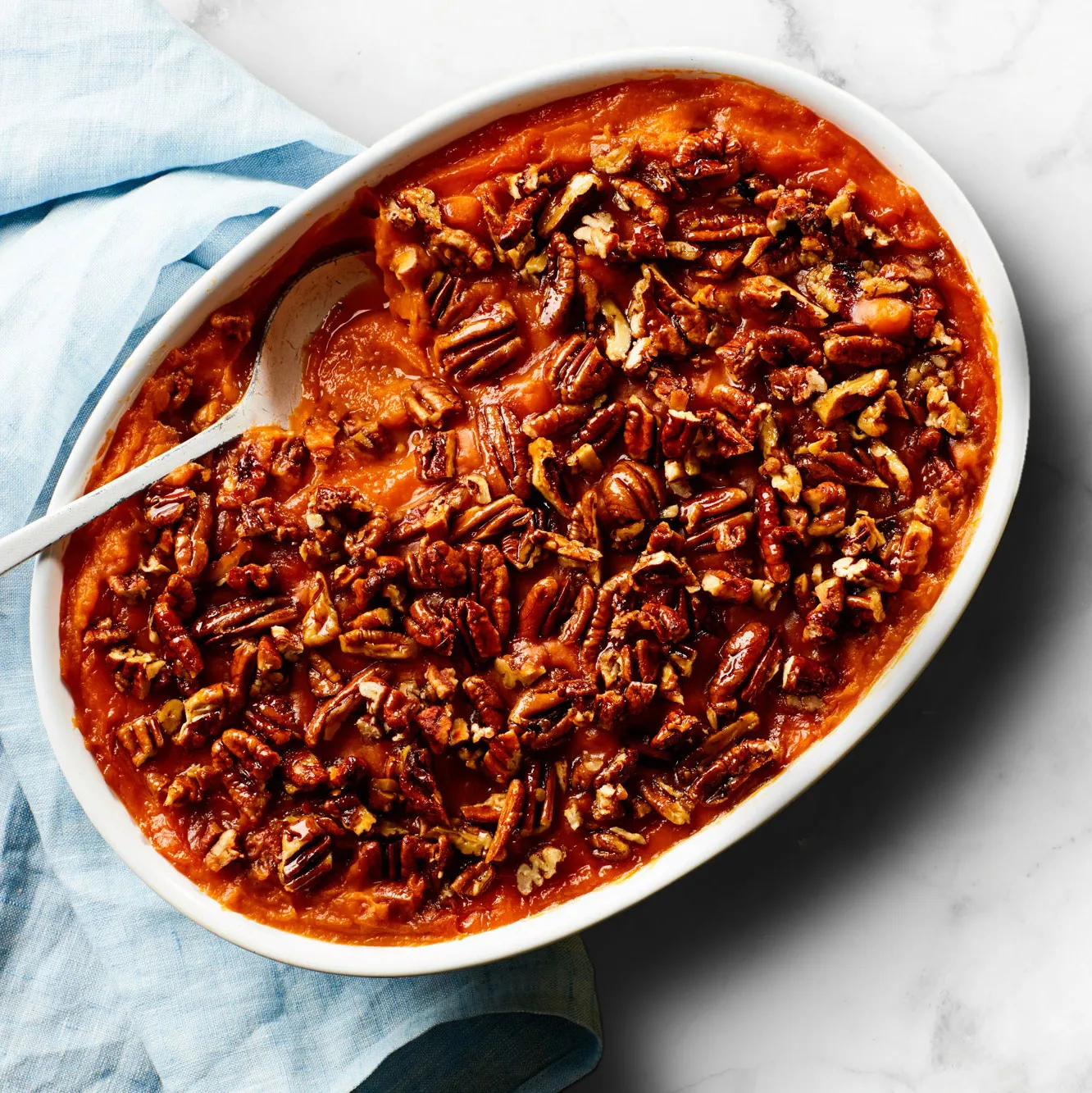 Simple Maple Pecan Sweet Potato Casserole
Ingredients:
Olive oil (for pan)

5 1/2 pounds sweet potatoes, peeled, cut into 1 1/2″ pieces

2 teaspoons kosher salt, divided, plus more

1 1/4 cups pure maple syrup, divided

2 cups pecan halves (about 7 ounces)

1 1/2 teaspoons freshly ground black pepper, divided
Instructions:
1. Preheat oven to 350°F. Oil a 3-qt. baking dish. Cook potatoes in a large pot of boiling salted water until very tender, about 12 minutes. Drain; let sit in colander 15 minutes.
2. Meanwhile, heat 1/2 cup syrup in a large skillet over medium-high. Add pecans, 3/4 tsp. salt, and 1 tsp. pepper and cook, stirring constantly, until syrup has evaporated and pecans are glazed, about 5 minutes. Transfer to a parchment-lined rimmed baking sheet and let cool.
3. Purée potatoes, 1 1/2 cups water, and remaining 3/4 cup syrup, 1 1/4 tsp. salt, and 1/2 tsp. pepper in a food processor until smooth. Transfer potato mixture to prepared baking dish.
4. Coarsely chop pecans and sprinkle evenly over potato mixture.
5. Bake casserole until top is lightly browned, about 40 minutes. Let sit 15 minutes before serving.
Do Ahead
Casserole can be assembled, without topping, 2 days ahead; cover and chill. Candied pecans can be made 2 days ahead; store in an airtight container at room temperature.
Click here to download this recipe card